Ingredients up close: Amalfi Revelry and Redwood Nocturne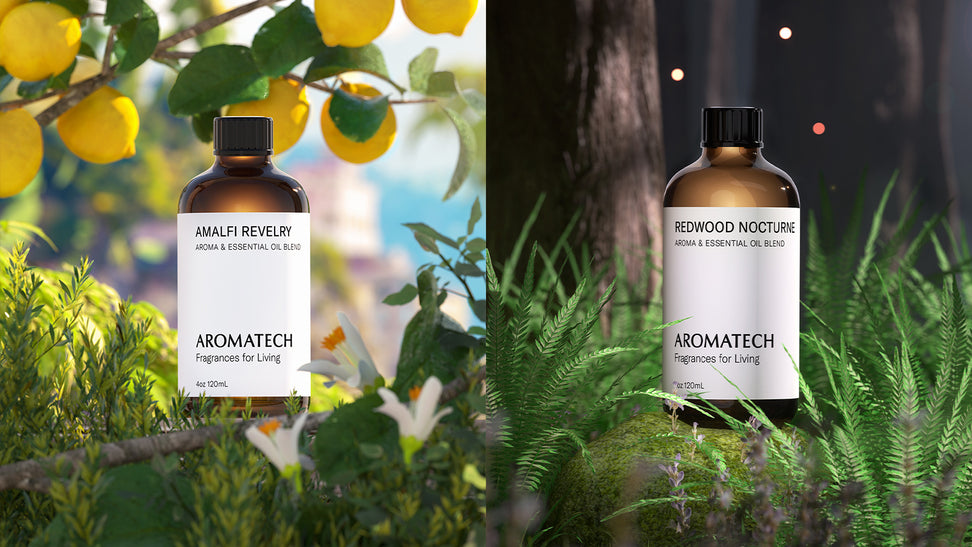 Our Ingredients Up Close series is a deep dive into the inspiration and key notes that distinguish some of our most popular fragrances to explore what sets them apart.
This time, we turn to two scents from our Journeys Collection, Amalfi Revelry and Redwood Nocturne—each a sensory ticket to a far-off destination. For lasting, pure scent diffusion, we recommend our cold-air nebulizers, which help to preserve the integrity of the fragrance oils.  
Amalfi Revelry: a  Mediterranean memory
Perfumer Ryan Lussier describes Amalfi Revelry as "sunshine in a bottle". In developing the fragrance, he kept returning to the image of a late-afternoon drive along the coast, windows open to the warm air. 
The scent conjures this sense of joy and freedom with a bright palette of floral and citrus top notes. Italian lemon, crushed mint and orange flower recall the vibrant gardens and tumbling roadside vegetation of the Mediterranean. 
In perfumery, citrus notes are often chosen for their fresh, light, clean appeal, which makes them a perfect match for grounding, woody elements—like musk and crystal amber, which provide an earthy, resinous base for this vibrant fragrance. 
Redwood Nocturne: lullaby amid the sequoias
Understated yet elegant, Redwood Nocturne has been developed to conjure the beauty and stillness of nightfall in a sequoia grove. Its subtle, woody character makes it an ideal fragrance "to fall asleep to", explains Lussier—the perfect aromatic wind-down after a long day, designed to impart a sense of peace.
Fir balsam and fresh cedarwood are the backbone of this soothing, resinous profile. Rosebuds provide a delicate, musky element, complemented by ginger: light yet spicy, and an ideal match for the predominant woody notes. A base of vetiver, deep and resinous, harmonises with other balsamic ingredients to yield a calming, green scent to smooth away the knots of the day as you drift off to sleep imagining stars above the sequoias.