Diffuser Oils for Total Relaxation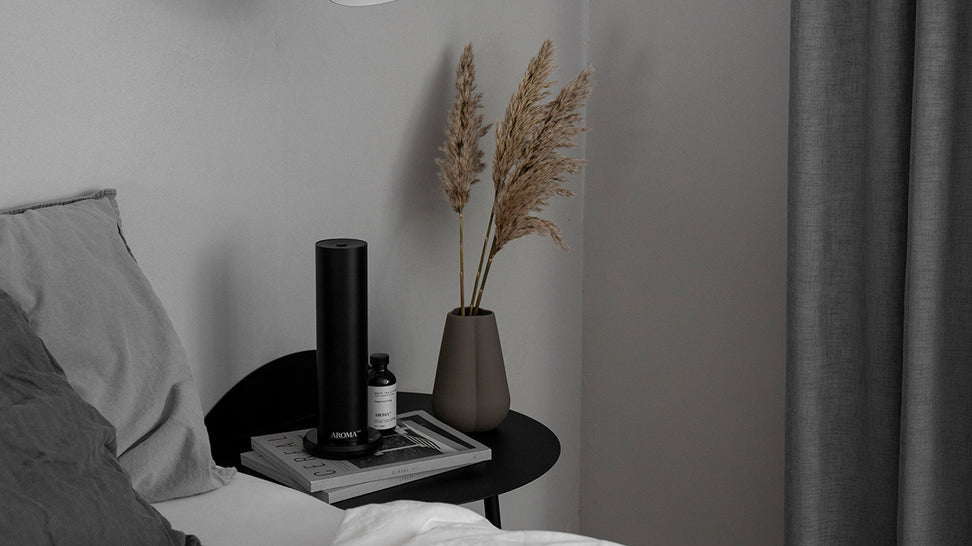 For those of you who did not know, National Relaxation Day is an annual event that dates as far back as 1985 and takes place on August 15. Recognized by the Mental Health Foundation, this day has been accepted by various public institutions, media organizations, and charities as a reminder to take better care of ourselves - mentally and physically - as well as the people around us. An initiative like this could not be more timely or relevant to acknowledge - not only on August 15, but for as long as is needed and as we continue to navigate the ebb and flow of the global pandemic.
Relaxing likely looks different to everyone, but the general consensus is that for many of us, relaxing needs to be approached with intent - especially now, during a time when it has become so easy to be consumed, if not overwhelmed, by current affairs and other external factors that are beyond our control. Whether that means setting up an at-home spa treatment, curling up with an enticing book, or binge watching a brand new show, engaging in relaxation-motivated activities can be extremely beneficial to our mental health and well-being.
One thing that can enhance this overall experience, and can help transcend you to a state of ultimate relaxation is - you guessed it - scent. Did you know that our sense of smell influences roughly 75 percent of the moods and emotions we experience daily? What this tells us is that as we go about creating ambiances to settle into this calmer state, we should perhaps think twice about the fragrances we select to fill our spaces.
Using diffuser oils for relaxation
There are many benefits to using diffuser oils to achieve total relaxation, notably their ability to shape our mood and physical body. As mentioned, fragrance and our strong sense of smell, combined, can evoke deeply-held emotions and empower the mind to drift to far-off and potentially more tranquil places. As well, depending on our upbringing and lived experiences, certain scents may stir up precious and personal memories, allowing us to tap into headspaces that are both calming and familiar.
In order to best diffuse your oils for the purpose of creating a relaxing atmosphere, we suggest opting for diffusers that use nebulizing technology. This type of diffuser is exceptionally proficient at distributing a highly-concentrated fragrance across large areas, without compromising the integrity and intensity of the oil. For a household environment, the AromaTech Aromini BT is an effective, whisper-quiet option for medium-sized spaces, and can be placed in your bathroom to add to that at-home spa feeling, or perhaps in the living room as you settle down for a cozy read.
What diffuser oils to use for relaxation
If your goal is to recreate a soothing and tranquil environment within your home or living space, look no further than to scents that are rejuvenating, fresh, and calming.
Rejuvenating scents
The inclusion of citrus notes in an aroma can be incredibly uplifting, and can help stimulate the gratifying and refreshing feeling you might experience whilst drinking a cold beverage on a hot summer day, or as you settle down for a relaxing and stress-relieving spa treatment. If you enjoy the scent of citrus, you might like our White Tea aroma oil - a light and airy fragrance infused with notes of white tea, rose, zesty oranges, sweet geraniums, Palo Santos, and cedar wood. You might also enjoy our Zesty Champaca aroma oil, which is an enticing blend of lemongrass and freshly cut champaca leaves, infused with notes of rich cedar wood.
Fresh scents
Sourced from the blossom of the bitter orange tree, neroli oil has been used as a key ingredient in perfumery (like an eau de cologne) for centuries. Known for its ability to help people stay refreshed and relaxed in balmy temperatures, neroli's sweet floral notes will breathe life and lustre into your home during any season. Wind down from the activities of the day with a good book in your hands and our Fresh Air aroma oil in your diffuser - a crisp and bright scent that incorporates hints of sandalwood, tea leaves, ivy, cardamom, ginger, and citrus bergamot.
Calming scents
Renowned for its calming and wellness properties, lavender is celebrated for its effect on reducing stress, curbing anxiety, and even minimizing instances of pain. Whether you need to let loose after a chaotic day or are simply striving to achieve a mental and physical state of equilibrium, you will be positively surprised by how impactful the subtle smell of lavender can be. Add a few droplets of our Lavender Vanilla aroma oil into your diffuser - an inviting blend of fresh lavender, creamy vanilla, geranium, and maple leaves - and settle into that new film that you have been meaning to catch up on. Perhaps you might also enjoy our Lavender Linen aroma oil, which combines notes of bergamot with purple lavender, complemented by a touch of Egyptian cotton, green eucalyptus leaves, crisp neroli, and patchouli.
How to make your home feel like a hotel
For our fellow travel enthusiasts who, unfortunately, are not doing much traveling right now, your ideal scenario for relaxation might be to recreate that hotel feeling and sense of wanderlust through deliberate home scenting.
Locate your lasting memories of that glamorous hotel you stayed at during a special vacation, and relive the memories you created during that time. Even the simple thought of the citrus-infused cocktail you sipped on, or the reverberating bass as you danced the night away, can be revived with scent, recreating the very personal emotions you felt - and will feel again one day - throughout your travels. If you like the sound of red rose, geranium, and lavender, coupled with the revitalizing smell of eucalyptus and fresh pine, The Hotel aroma oil might be the perfect choice to help you jumpstart a few much-needed moments of relaxation.