An Interview with Art Director, Phil Cohen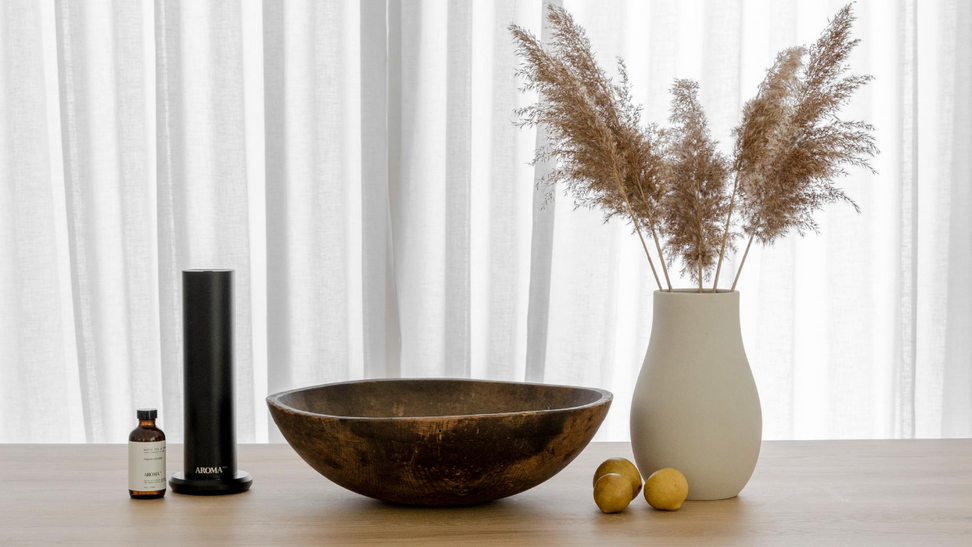 An Interview with Art Director, Phil Cohen
Is creativity inherent or can it be developed with time? Whichever side of the discussion you find yourself on, one thing is for sure - fragrance influences ambiance, and ambiance is important for creativity.
We had a wonderful opportunity to sit down and get to knowPhil Cohen - a talented Art Director at a graphic design agency with specialtiesin exhibit, environmental, and print design. When it comes to understanding the importance of ambiance in inspiring creativity, look no further than Phil.
Outside of work, Phil has fully immersed himself into his passion for menswear. You might know him better asThePacman82, where he is redefining the classic fashion selfie in favor of crisp and flawless flat-lays. His aesthetic, beyond just clothing, meshes classic roots with modern simplicity, and a flair for minimalistelegance - preferences that are very evident in the way he has curated his home, down to his choice of scent, and in his appreciation for architecture, interior design, and creative spaces. With how Phil has translated this aesthetic across his many interests, it is apparent that he has a clear vision for his space, and an appreciation for the many factors that create a desired atmosphere.
Our Q&A with Phil Cohen
AromaTech: As a creative, how important is ambient scenting to you and your workflow?
Phil Cohen: For me, ambiance is everything. To be honest, it helps me feel warm, safe, and happy. Especially as a creative, and with the work that I do, ambiance is key to achieving that extra level of relaxation and peace when I need to do deep, thoughtful work - it helps me get into the zone! Ambiance is the icing on the cake–a special little feeling that you didn't know you needed but now could never live without!
A: What makes a space feel like home to you?
PC: Making a space feel like home is all about adding your personal touches to the space. Being intentional about how you incorporate your personal decor and style preferences can help create that warm, welcoming and cozy living environment that you want to return to at the end of the day.
What 'home' feels like will mean different things to different people though. For me, I prefer natural materials and neutral colors –a simple, clean, and bright space is what helps me feel the most relaxed and creative.
A: What has been your experience in using AromaTech products?
PC: The minimal design aesthetic of AromaTech diffusers blend so seamlessly with my personal style. The diffusers and aroma oils are beautiful and refined –from the aroma oil bottle design to the product interface. You can tell that every aspect of the product has been created with intent to complement the user's lifestyle and allow for a wonderful integration into their space.
A: What is your favorite fragrance from the AromaTech collection and why?
PC: Do I have to choose? At the moment, my current favorite is theTokyo aroma oil from theCities Collection. It blends several fragrance notes that, as standalone scents, are incredibly fragrant and distinct - but the way that they have been mixed into this beautiful concoction works extremely well. The citrus and cherry blossom notes are so refreshing and reinvigorating, it has been a lovely option to spruce up our living space - and my wife also agrees!
Scented oils to jumpstart your creativity
Whether, like Phil, you work in the creative industries, or simply look to creative activities to fill your spare time, there are many beautiful fragrances that can help spark moments of artistic expression and imagination.
OurFresh Air aroma oil is another great option for the creatively-inclined. Emulating the crisp and refreshing scent of fresh, clean air, this blend of citrus bergamot, ivy, tea leaves, cardamom, ginger, and sandalwood will make you forget you are indoors, breathing life and lusterinto whatever space you may be in.
Why is ambiance important?
When we talk about 'character', we often associate it with humans and their unique personalities. But even physical spaces embody their own distinct characteristics.
Many of us are still spending much of our time at home, learning to use our spaces in creative ways to accommodate the different scenarios and activities we engage in. Whether you are working from home, tuning into a digital workout, or creating new memories over a virtual happy hour, ambiance is key to sparking creativity, energizing a room, or helping you wind down.
Aside from the overtly visual elements at home or in a public space - be it furniture, the amount of natural light beaming through, or color palette of the surroundings - more discreet factors, like scent, are also key to creating a particular mood or atmosphere. As mentioned in previous blog posts, scent has the unique ability to transcend us to a different time and place, to call on deeply-kept memories, and to stimulate very visceral emotions from within us. Knowing this, being intentional with thescents you choose to incorporate into your everyday lives - and with consideration for the checklist for that day - will not only brighten up your space, but set you up for a productive day.
As with fine art and other creative concepts, ambiance is subjective and highly dependent on an individual's personal needs. While only you will know what fragrance or diffusing technology suits your lifestyle, we can do our best to help break down what your options are. Have a look at our previous blog post for some insight into themain things to keep in mind when buying your next scent diffuser.