Using scent to set the mood in your creative space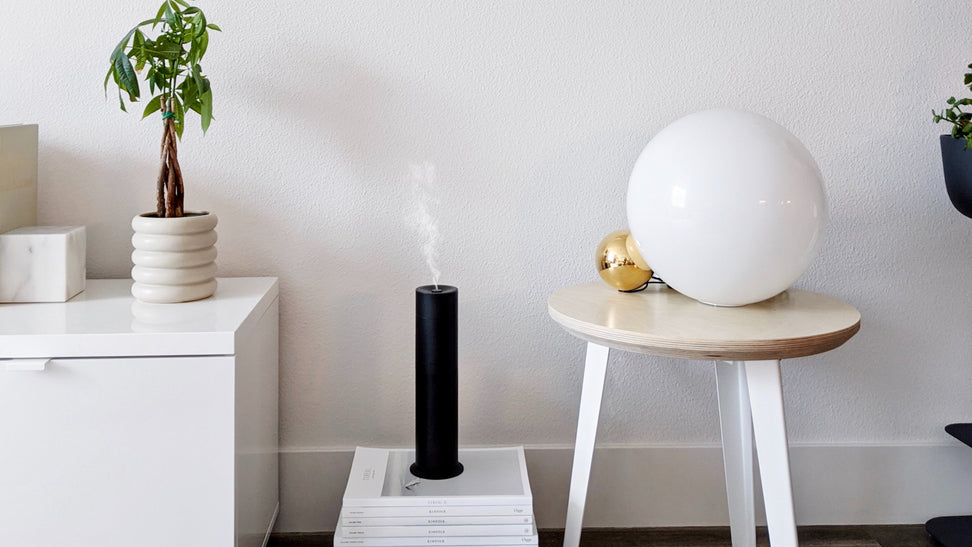 In an ideal world, your home is your safe place. It is the environment that you retreat to after a long day at work, or a space you stay cooped up in over the weekend for a bit of R&R. A place that many of us look to recharge and unwind - ensuring your home is bringing you bouts of positive energy and a sense of relief can be life-changing.
For many around the world, our homes are serving more purposes than previously intended right now. Some of you may still find yourself working from home, while also living, being social, and perhaps even educating your little ones too. With this in mind, creating a living environment that promotes productivity, well-being and creativity is crucial.
Fortunately, because of our strong emotional connections to our sense of smell, deep diving into the world of home scenting can be the most effective and simple way to find that balance. By being intentional with the fragrances you choose to elevate your home, you can give yourself the space to better yourself by creating an environment that has the potential to foster creativity, reduce your stress and anxiety levels, and increase feelings of optimism, confidence, and energy.
How does scent affect our mood?
Whether you are aware of it or not, the bond between scents and our moods is strong. As we move through our lives, encountering and engaging with different scents, our personal experiences and associated emotions latch onto these smells - figuratively - only to be stored and then revived at a later date.
Some fragrance notes may take you back to a beloved place or city. The warm, invigorating smell of what just might be the world's best freshly brewed coffee might send a stream of memories of New York's bustling streets through your mind. A hint of coconut and fresh citrus fruit might transport you back to the relaxing Hawaiian resort you vacationed at last summer where you spent most of your day lounging by the pool, basking under the warm tropical sun. And amidst all of that stimulation, scent is also discreetly shaping your mood.
When it comes to creativity, one's creative process and preferred outlet can differ greatly from the next person. But the beautiful thing is that fragrance does not discriminate. While different fragrance notes will surely impact different individuals in different ways, the end result will be a tailored ambiance that can help spark creativity, no matter what that might look like for each person.
As mentioned in our interview with Art Director, Phil Cohen, setting the perfect ambiance tone in your space means everything if you want to maximize your creativity. Your surroundings should be optimized in such a way that you are able to achieve a certain level of relaxation and clarity to engage in whatever deep and thoughtful work you are about to embark on - much of which is at the core of what it means to successfully be imaginative and creative.
The best scents for fostering creativity
You might work directly in the creative industries, maybe as a musician, a painter, a writer. Or perhaps you are an entrepreneur who is trying to move the needle in your respective field. Maybe you are someone who simply enjoys movement, and so you choreograph dances in your spare time. The truth is that anyone, and everyone, can be creative. But locating that optimal mindset that allows you to nurture your creative tendencies can be challenging at times. Not to fret - here are four fragrance recommendations from the AromaTech team to help you get back onto that creative track.
Bergamot
Commonly used in aromatherapy to elevate mood and alleviate stress, bergamot is a bright and zesty aroma oil with powerful health benefits. Often compared with the favorable citrus notes of grapefruit, bergamot is said to have properties that make it antiseptic, an effective muscle spasm surpressor, and analgesic (or pain-relieving). For a fragrance composed of orange, lemon, and citrus notes that will uplift your space and help pave the way for the free-flow of imaginative and creative ideas, you might enjoy our Bergamot Orange aroma oil.
Eucalyptus
Even the slightest whiff of eucalyptus can quickly transform your space into one that is both tranquil and soothing. A fragrance that is inherently cooling, the eucalyptus fragrance almost immediately evokes relaxation, sending you into a state of mind to create freely within an environment that is embracing and free of judgment. For a fragrance composed of eucalyptus, rosemary, white citrus, sweet ylang ylang, and cedar wood notes, you might enjoy our Eucalyptus 100% Pure Essential Oil.
Lemon & Jasmine
Whether diffused independently or, even better, together, both lemon and jasmine oils are highly effective at promoting an aura of positivity. Lemon, with its cleansing properties, can bring a purifying energy to the air and surfaces in your home, while jasmine - both an antidepressant and aphrodisiac - will leave you and your space feeling both increasingly elevated and calm. For a fragrance composed of vanilla bean, amber, jasmine, and lemon notes that will bring some organization and structure to the creative task at hand, you might enjoy our Oriental Garden aroma oil.
The benefits of fragrance on our moods, emotions, and overall outlook on life is widespread. But even if you are looking to fragrance for a targeted purpose - whether to amplify a certain quality, or combat a nagging mood or emotion - having a wealth of options to choose from to find out what is most effective for you can provide immense value. For more recommendations on home scenting for optimal creativity, check out our more comprehensive list of fragrances to help you get into the right artistic mood.