Ingredients Up Close: Alpine Summit and Bora Bora Serenity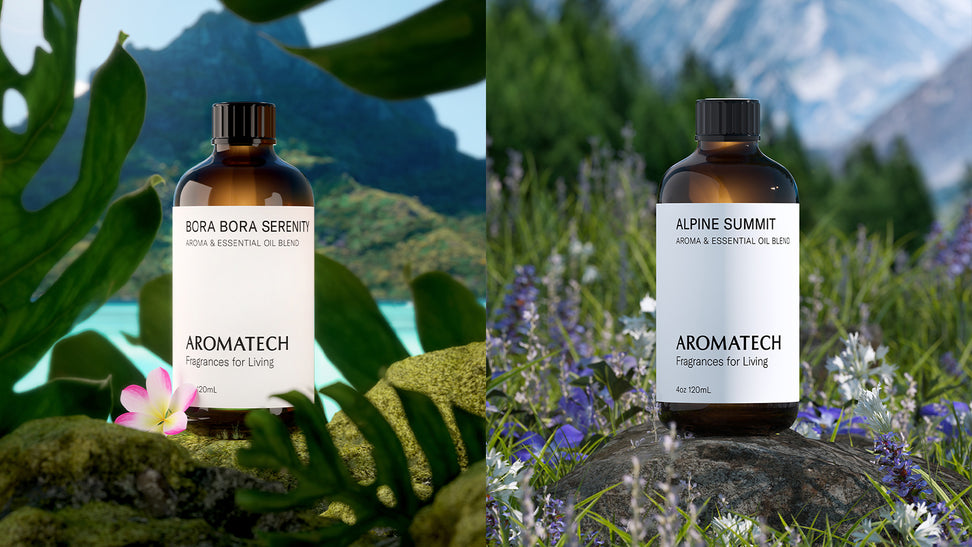 Each of our scents is developed to capture a particular mood, atmosphere, or feeling with a unique blend of aroma oils and pure essential oils. This series—Ingredients Up Close—takes a magnifying glass to a handful of our fragrances, exploring key notes and ingredients. 
This installment is devoted to Alpine Summit and Bora Bora Serenity, two scents that each provide a sensory pass to a distant destination—best paired with our innovative cold-air scent diffuser to ensure clean, lasting fragrance. 
Alpine Summit: Mountain Majesty
The idea behind Alpine Summit was for a "refreshing, invigorating, outdoorsy" fragrance, created to hold broad appeal, but ideal for any setting where an energy boost is required—from gym to studio to home office. 
Like its name suggests, notes of crisp mountain air underpin this unique, enlivening scent. Imagine the deep, cleansing inhale you take upon finishing a hike, or perhaps pausing to take in the snow-capped peaks in the distance—the pure, bracing air, the elation of the summit. 
For this scent, AromaTech's Fragrance Editor Ryan Lussier chose woody, herbaceous notes to round out the crisp alpine profile—fir needles, geranium, and blue sage recall a clearing studded with wildflowers. Patchouli provides an earthy, musky base.
Bora Bora Serenity: An Island Oasis
Tropical, floral, and subtly sweet, Bora Bora Serenity evokes the warmth and tranquility of a remote sandy beach—a place with a leisurely tempo, where time stretches long and unhurried. 
While creating this scent, Lussier looked to warm, welcoming notes to create a soothing ambiance. Frangipani was included for its exotic yet universally appealing profile, with fruity and floral elements in harmony: think jasmine or gardenia with the creamy warmth of vanilla. It pairs beautifully with coconut, another of Bora Bora Serenity's key notes, along with mellow tropical fruits, to offer immediate transport to an island paradise. 
The light, sweet top notes are given nuance by the fragrance's woodier heart. Tolu balsam and blond woods lend an earthy green depth to this calming, uplifting scent.