Who Refills the Diffuser in Your Office?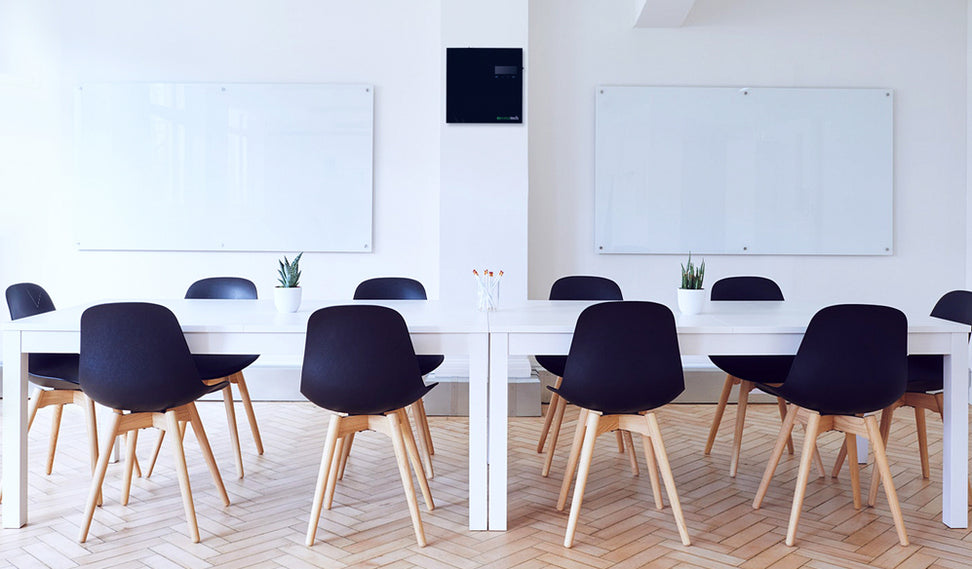 Who Refills the Diffuser in Your Office?
If you've decided to try scent diffusion in your workplace, congratulations! You know how hard it can be some days to fight stress and focus on work – and you've discovered the power of scenting to create a productive atmosphere for you and your team to enjoy. There is a whole world of scent out there to explore, and the benefits are well worth the minimal effort. Make sure you know who's refilling your diffuser and keeping it running and in decent shape – if you don't, you'll miss out on key benefits such as:
Less stress and more productivity
Aroma diffusers in the workplace can not only promote good overall well-being but also improve productivity. Workers in a pleasantly scented environment often feel calmer and more positive with less anxiety and stress, even in the midst of hectic schedules and pressing deadlines. You can improve the mental health in your office significantly with scent, which travels to the limbic system and triggers happy memories and emotions.
Higher – or lower – energy
You can use scent to fine-tune your work environment, whether you need to create a more energetic atmosphere for an important presentation or event or calm things down at the end of a long day. For example, you could diffuse calming scents such as lavender and chamomile to help your employees relax, or use energizing blends such as eucalyptus to get people moving when you need them to be a little more engaged.
Using scent diffusers in the office Aromatherapy diffusers are a very popular and effective way to enjoy the numerous benefits of scenting. Depending on the essential and aroma oils you select, you can bring about various desired effects, including stress reduction, mood elevation, enhanced alertness and focus, and better overall well-being. Place your diffuser in the center of an open office or choose one you can connect to the HVAC system to scent multiple separate areas. It's also best to select a diffuser with adjustable intensity settings so that you can find the perfect aromatic balance. 
Aroma blends to try in the workplace Depending on what you want to accomplish, there are many different aroma blends you can use to achieve your goals. At AromaTech, we offer a variety of essential and aroma oils well-suited to professional environments. If you aren't sure where to start, try one of the following:
Crushed Lime & Mint:

 

Experience a burst of energizing and sweet scent featuring lemon zest, pink jasmine, musk, and cedar leaves– an intoxicating and stimulating blend for times when you need people on their toes.
Oriental Rain:

 

Perfect for times when tensions run high, Oriental Rain can calm and rejuvenate with a delicate blend of water lily, geranium, ylang-ylang, and orange.
Vanilla Cedarwood Sage:

 

Another blend that's great for calming frazzled nerves, this soft yet rustic scent is a mystical and soothing blend of warm vanilla, cedarwood, and earthy sage.
You can also look for aroma oil blends that contain the specific essential and aroma oils you need to produce particular results. For example, if you want to improve mental clarity and focus in your office, look for a blend that contains frankincense, vetiver, peppermint, or rosemary. To soothe anxiety, go for lavender, rose, or chamomile. To wake people up from a sleepy case of the Mondays, get them moving with bright citrus or thyme or something spicy such as cinnamon or ginger. There are endless ways to use aroma oils at work, so take the time to explore this exciting world and see the difference an AromaTech diffuser can make in your office.
Benefits of AromaTech diffusers Our diffusers offer a range of benefits that are hard to beat. They're whisper-quiet and designed to be sleek and stylish, fitting into any décor with ease. You can use them with our wide range of essential and aroma oil blends, so finding the scent you want for any business or office setting is a breeze. They also use a special nebulizing technology that requires no heating or diluting of your oils, which means your oils will maintain their integrity and last longer, doing the job they were made to do.
However, one of the best benefits of our diffusers is how easy they are to use. If you're concerned about committing to a laborious routine of cleaning and refilling, let us set your mind at ease. Filling our diffusers is as simple as choosing the scent you want and filling the bottle inside the diffuser of your choice – then switching on the unit. It will automatically run at the appropriate intervals, cutting off regularly to avoid over-scenting. Our essential and aroma oils last a long time as only tiny amounts are dispersed into a fine, dry mist that lingers in the air for hours, creating a subtle yet effective atmosphere. Cleaning is a simple matter as well, making our diffusers extremely low-maintenance yet hugely rewarding to use.
Our diffusers are designed for use with our many essential and aroma oils and blends, which are easy to order as well. 
The benefits you'll see in your workplace when you start using an AromaTech scent diffuser are well worth the investment – so why not try one out today? Your employees and you will love the experience of working in a scented environment, and they'll appreciate the effort you put into making sure they have a positive and supportive workplace. It's so easy; anyone can reap the rewards of using a scent diffuser at work. Don't miss out – order yours today.