Top 10 Home Scents For A Fresh Start & A New You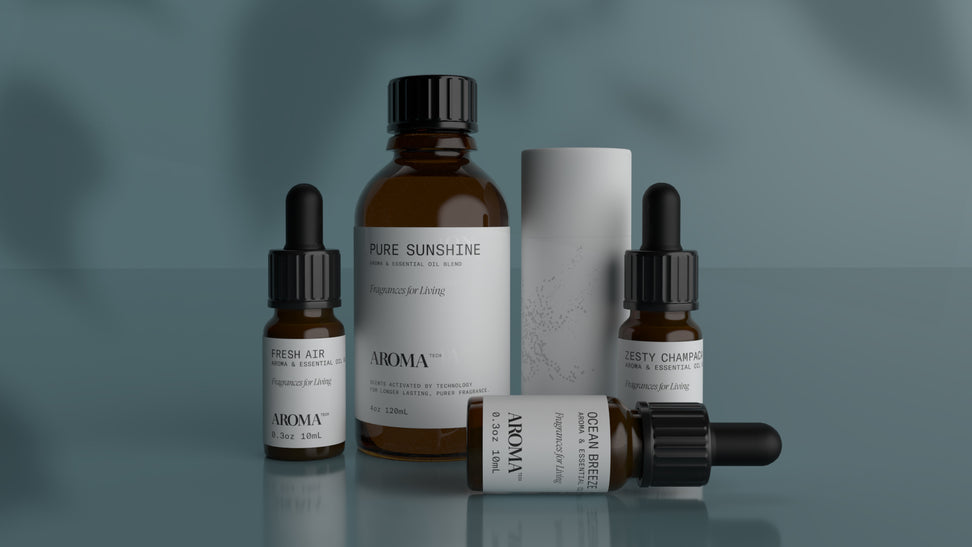 It's officially springtime – and what better time is there for starting fresh and making those changes you've been putting off all winter.
There's nothing that shifts the mood and uplifts emotions like the scent you have in your home. What's more, diffusing essential oils in your home can reduce stress levels, increase energy, and promote clearer breathing.
This exclusive list of the top 10 home scents will give you some inspiration for a fresh start and a new you. Choose your favorite, or try them all!
Eucalyptus
Eucalyptus is a classic home fragrance that's widely loved for its clearing and cleansing qualities. This uniquely refreshing scent opens up your sinuses to allow for a breath of fresh air, while having a relaxing and calming effect on your mood. Eucalyptus even has antibacterial properties, so it could mildly disinfect the air and surfaces in your home.
Zesty Champaca
This uplifting blend combines the delightful aromas of zesty lemon, herbaceous thyme and spicy champaca. Zesty Champaca will make your home smell fresh and welcoming, while also cleansing the air with its antibacterial properties. This 100% pure diffuser blend is made with the highest quality of raw, natural ingredients.
Pure Sunshine
Like a ray of sunshine, this warming and refreshing diffuser blend will brighten up your home. Pure Sunshine blends the fruity notes of citrus, raspberry, and orange zest with the floral notes of sweet pea and jasmine. Hints of comforting vanilla, violet and musk make this 100% pure blend cozy and inviting.
Green Tea & Lemongrass
Add a touch of Zen to your living space. This earthy and exotic blend of 100% pure essential oils combines the fragrant aromas of green tea leaves and lemongrass. Made with the finest natural and raw ingredients, this home scent will invigorate the senses and relax the mind.
White Tea
This 100% pure essential oil diffuser blend has an elegant and clean scent that will bring a calm and inviting atmosphere to your home. The refreshing fragrance of white tea is combined with hints of delicate rose, zesty orange and sweet geranium, and undertones of warming palo santo and cedarwood.
Air Fresh
Relax and take a breath of clean, fresh air. This sublime diffuser blend gives your home a light and airy atmosphere with its unique infusion of sandalwood, tea leaves, ivy, cardamom, ginger, and bergamot. Air Fresh is perfect for diffusing in your home on a crisp spring morning, or any time you want to add a touch of elegance and sophistication.
Bergamot Orange
If you want a fragrance for your home that uplifts your mood and promotes a positive outlook on life, Bergamot Orange is the perfect choice. This aroma and essential oil blend combines refreshing lemon, zesty orange and sweet bergamot to create a scent that will brighten and energize your living space.
Fresh Linen
Do you love the smell of fresh, clean linen? This refreshing diffuser blend adds a soft, sweet fragrance to your home that relaxes the senses. Fresh Linen combines white jasmine, spring blossoms, lily of the valley and citrus peel, with hints of fresh cut leaves and musk.
Crushed Lime & Mint
The classic combination of lime and mint is delightfully cooling on a hot day. Crushed Lime & Mint is a refreshing and revitalizing diffuser blend that combines the zest of lime and freshness of mint with hints of jasmine, musk, mandarin blossoms, and cedar leaves. Diffusing this blend brings relaxation and serenity to your living space.
Ocean Breeze
This refreshing and revitalizing diffuser blend adds the scent of a cool sea breeze to your home. Fresh floral and citrus notes are paired with white grapefruit, bergamot, and mint, with gentle hints of sandalwood, water lily, and jasmine. Ocean Breeze brings a light and airy atmosphere to your living space.
When you're finding a fresh start and a new you, these top ten home scents will make your living space a refreshing atmosphere that uplifts your senses and your mood. Which of these sublime diffuser blends will you try in your home first?