A Guide to the Top 10 Scents We Just Can't Live Without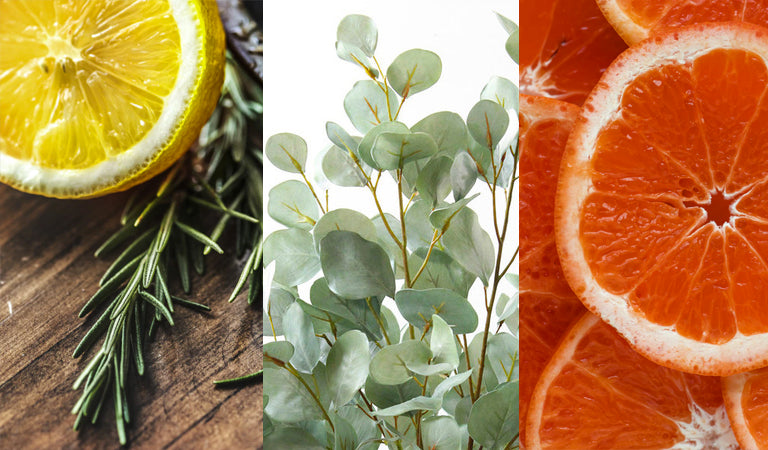 If you're just getting started using essential oils, you may have noticed there is a vast array of options at your fingertips, encompassing hundreds of different scents available for multiple different wellness purposes. Even if you are familiar with scenting already, you may still feel a bit overwhelmed when trying to decide which aroma oil to try next. This is especially true now that the expanding popularity of diffusing has led to an increase in the number of essential oil products on the market. There are just more scents to choose from than ever before. 
While there's no harm in taking a trial-and-error approach to find which oils work best for you, you don't need to break the bank buying dozens of oils right away. Selecting a few to start and building your collection from there is often the best approach—and you can learn a lot about the right scents for your by taking a look at the benefits popular oils promote when it comes to everyday wellness.
We've created a helpful guide to some of the must-have scents available from AromaTech that you can use in any of our high-quality diffusers and scenting machines. The well-known scents on this list don't simply smell wonderful—they also have legitimate therapeutic benefits backed by scientific research.
From the ability to combat harmful microbes to promoting a more restful night's sleep, the scents in this guide are just a sampling of the many powerful effects aromatherapy can have. Let's look at the top ten scents essential oil lovers can't live without.
Lavender: According to many aromatherapy professionals (and fans), lavender is the essential oil you should have at home if you only choose one. That's because few other oils have the range of therapeutic properties lavender offers, including support for soothing away anxiety, ensuring a good night's sleep, and helping to ease away headaches. Lavender can also aid with sinus and respiratory issues, making this scent a great choice during allergy season.
Lemon: Lemon is second only to lavender when it comes to versatility. It is a potent anti-microbial oil that helps to purify the air. Its invigorating scent is useful for combating anxiety, lifting your mood, and making you feel more focused during the day.
Frankincense: Frankincense resin has been valued for centuries as a scent fit for royalty, and for good reason. Not only does it smell amazing, it is also one of the best fragrances for inducing a restful night's sleep and relieving stress. Want to unwind in the evening after a stressful day at work? Simply diffuse this kingly oil and you'll transform your home into your own tranquil sanctuary.
Clove: Clove oil has a wide range of benefits, including the ability to purify the air and help relieve tension-related headaches. Feeling stressed? Simply diffuse some clove oil in your cold-air nebulizing scenting machine and you'll be feeling calmer and more at ease in no time.
Eucalyptus: No essential oils collection is complete without eucalyptus, especially when cold and flu season strikes. This oil can help ease congestion and coughing and is a natural insect repellant to boot. Feeling a bit low-energy? Diffuse eucalyptus to improve your mood and alertness.
Orange:It's nearly impossible to feel bad when you're inside a room where orange oil is being diffused. That's because this citrus scent helps to improve mood and cleanse the air, allowing you to feel more relaxed while you breathe easier.
Peppermint: A wide range of benefits have been attributed to peppermint oil, including help with combatting nausea, headaches, and anxiety. Want a fresh-smelling scent that will help you feel calm at any time of the day? Be sure to keep peppermint close.
Rose: Few scents are more adored than the seductive aroma of rose oil. When diffused, rose can add a sense of luxury to any room in the house. Rose also aids with sleep and can help alleviate stress.
Rosemary: Stress-related headaches are a common woe, which is why rosemary oil is a must-have for any home. When diffused, rosemary helps to alleviate headaches and other tension-related issues and can improve your mental clarity, making it a great choice to use whenever you need a little extra help staying clear-minded.
Tea Tree: Tea tree oil is one of the best natural antimicrobial and anti-fungal oils available. When you want to cleanse and purify the air, especially if someone is sick in your home, this oil is a must-have. It may also help you breathe a little easier during allergy season.
This is just an introduction to the many powerful benefits essential oils can have. The best way to enjoy their therapeutic effects is to diffuse them using a specially-designed scenting machine, such as one of the many cold-air nebulizing diffusers produced by AromaTech. These machines allow you to set your desired scent concentration and scenting schedule so you can invoke just the right ambience at any time.
If you'd like to explore these and other oils, browse AromaTech's wide selection of 100 percent pure essential oil aroma blends. Each premium blend is made using only the finest cold-pressed organic oils without any unnecessary additives of fillers. Try an oil that incorporates the top 10 must-have essential oil ingredients, or try something a bit more exotic, like a special seasonal blend or an oil containing ylang-ylang or bamboo. Each oil we carry is compatible with any of our diffusers, making it easy to explore your options and discover your next favorite scent.
There's no easier way to build up your must-have essential oils collection than with AromaTech. To learn more about the oils we carry or how to get the most out of your scenting experiences, feel free to contact us.